The best workout apps help you get in shape as 2020 kicks off. We'll focus on the fitness apps that can keep you focused and on track, even when you don't want to move. On top of that, we've rounded up the best workout apps so you can add variety to your workouts and fitness routines so you don't get bored.
From the actual fitness and workout apps to apps that will help you keep with your goals, these are the fitness aids that can make the difference between getting in shape and falling back into bad habits.
We're not focusing on the best weight loss apps in this roundup, instead, we'll look at the apps that can help you focus on your fitness and on your workouts. From motivation to fitness tracking and workout help that even includes a personal trainer this is your home for the best Android and iPhone fitness apps.
This article may contain affiliate links. Click here for more details.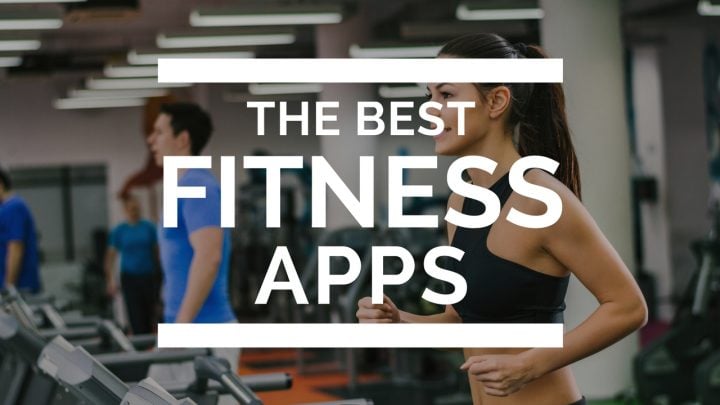 The best fitness apps and the best workout apps you can download.
Fitness trackers are helpful and calorie logging is important, but your workout strategy is also an essential part of your overall health and fitness.
Finding the time to workout is tough, so we've added fitness apps like the 7 Minute Workout that can help you make strides towards better health every day even if you only have a few minutes at home.
More advanced fitness apps will walk you through more intense activities and work in other exercises. The best workout apps will also help you find new areas to focus on at the gym or at home. Some of the best workout apps can even take into account your recent workouts and activity levels to suggest a focused workout that targets an area that you've been resting.
Whether you are just getting started, or you are looking for the next step, here are the best fitness apps for iPhone and Android;
Aaptiv
7 Minute Workout
Cyclemeter
Nike+ Run Club
Endomondo
Fitbit
Strava
Sweat: Kayla Itsines Fitness
Running for Weight Loss Workout & Meal Plans
Couch to 5K (C25K)
Walking for Weight Loss
Beachbody on Demand
Sworkit
JEFITWorkout App
Many of the best fitness apps are free to download and free to try, but you'll discover that there are many fitness and workout apps that you need to buy or that require a subscription for continued use.
Aaptiv
Use Aaptiv to get a great workout.
You don't need to stare at your phone screen for the full workout to be able to get the benefits of a fitness app. Aaptiv is an audio only fitness class that you can pull up on demand.
No more trudging to the gym to sweat with a bunch of strangers. Pull up Aaptiv and you'll be able to listen to a trainer that lives on your iPhone and in your ear.
Set your goals, choose a workout, trainer, music and other details and get going. Put your headphones in and it's time to workout with a trainer guiding the way and music to keep your going.
Aaptiv offers a free 7 day trial and is $14.99 a month or $99 a year. There is also a 50% off deal for students.
7 Minute Workout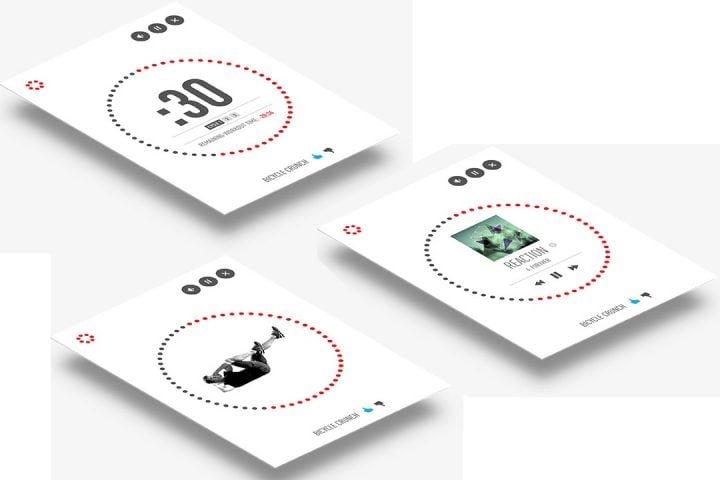 The best 7 minute workout app.
The 7 Minute Workout focuses on delivering a short, but incredibly focused workout session that uses tested methods to deliver your path to fitness in less than 10 minutes.
The Johnson & Johnson 7 Minute Workout app delivers the science-based workout routine developed by Chris Jordan. This includes 72 exercises and 22 workouts that can combine to deliver over 1,000 variations of the 7 Minute Workout.
The app includes a Smart Workout feature that understands your fitness level and your motivation fo deliver the right mix of workouts and intensity.
The 7 Minute Workout app is free on iPhone, Apple Watch and Android.
Cyclemeter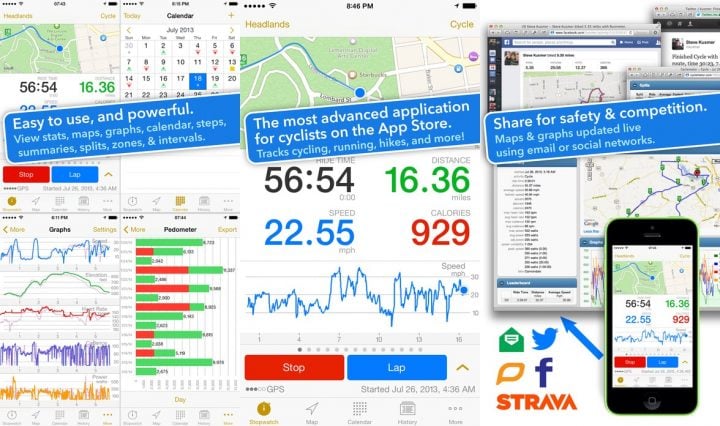 Use Cyclemeter to get the best bike workouts.
Cyclemeter is one of the best cycling fitness apps on the market. When you connect this to your bike, it turns any bike into a smart bike with maps, graphs, splits, intervals, laps, announcements and training plans.
With Cyclemeter, you can record an unlimited number of workouts and see all kinds of stats, check out your workouts on a calendar view and see a summary of your progress.
There is also Apple Watch support and connectivity to the Casio STB-1000 sports watch and Wahoo RFLKT+ bike computer.
Cyclemeter is free, but the app really shines when you upgrade to the Elite features that unlock new controls and way more features.
Cyclemeter is iPhone only, and available on the App Store. You can unlock Elite features for $9.99.
Nike+ Run Club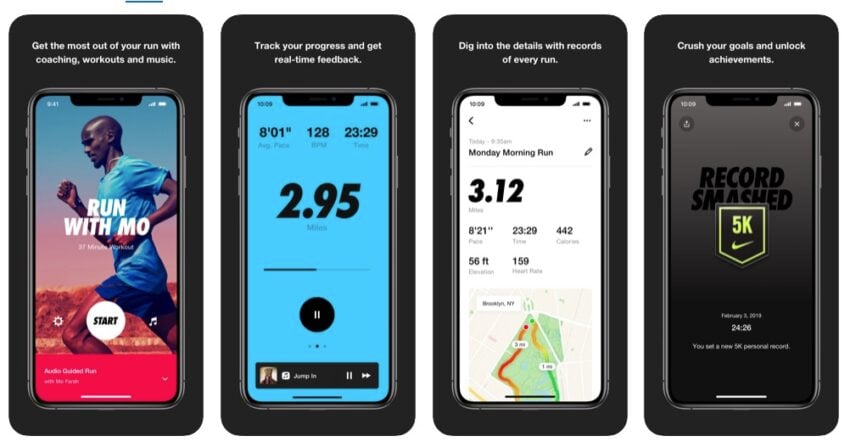 The Nike Run Club app is great workout app.
The Nike+ Run Club app faced some backlash after a redesign in 2016, but overall it is still one of the best fitness apps you can download for iPhone or Android.
When it comes to looking for the best running app to get fit, the Nike+ Run Club app is definitely on our list. This app will help you with a plan to match your goals.
The Nike+ Run Club app tracks your runs using GPS, you get motivation from Kevin Hart, Mo Farah, and Allyson Felix as well as the option to share runs with friends.
When you are running the app offers music controls and includes audio alerts to cheers from friends and encouragement to keep going.
Nike+ Run Club is free for iPhone and Android.
Endomondo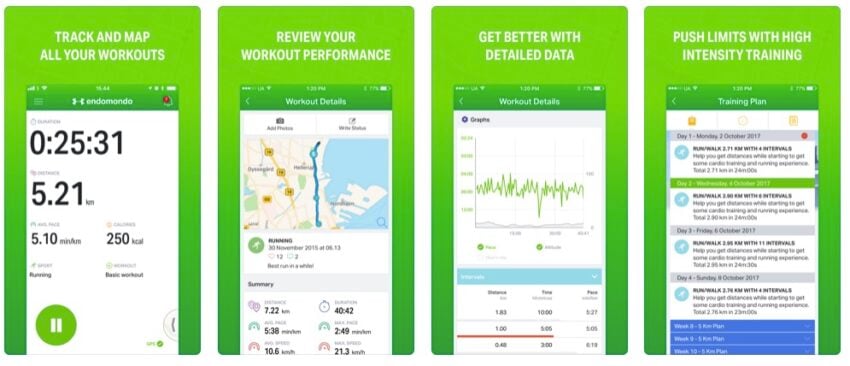 get help meeting your goals with this workout app for iPhone and Android.
The Endomondo app is a free personal trainer app that helps you find the best workouts to meet your fitness goals.
With Endomondo, you get a personal trainer for running, cycling, walking and other activities where you can track distance.
You can connect with a number of watches and sensors to track your workouts and see your stats.
The app includes FPS tracking and a live map that allows people to watch your progress. Other features include; audio coach feedback, workout goals, music options, social motivation, a training plan, interval training support and much more.
Endomondo is free to download on iPhone or Android with premium features available from $2.99 to $29.99.
Fitbit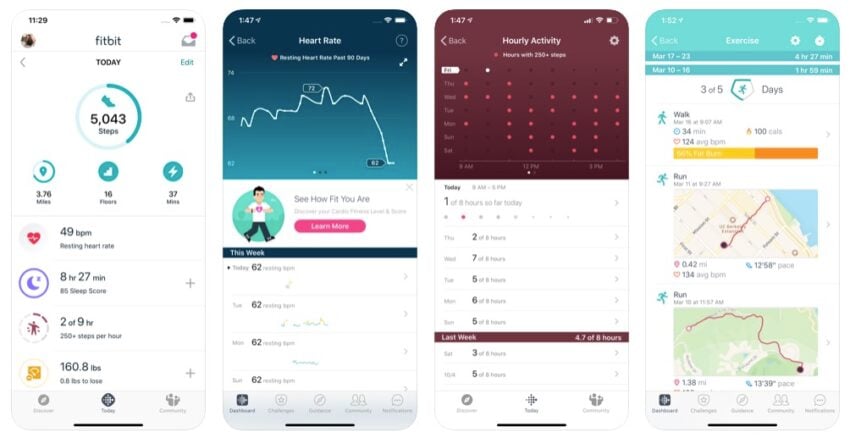 Fitbit can help you track your workouts and get support.
The Fitbit app offers great social support through friends and groups that can help you stay motivates. The company found that users who have at least one friend take 700 more steps than users without friends so there is a major focus on finding connections.
Instead of limiting yourself to friends you know, you can use this fitness app to find connections in communities that let you connect with others who have the same workout or fitness goals. There are 20 communities that you can currently join, raining from weight loss to getting fit.
Part of the update is a news feed that delivers inspirational information to you, tips and other content from health and fitness experts.
The Fitbit app is free for iPhone and Android. This works best with a Fitbit device to track your steps.
Strava